Sakaya Kuizumi
Coming soon!
Profile
First Appearance
Episode 2
Gender
female
Birthday
March 7th 2000
Astrological Sign
Pisces
Hometown
Nevada,California
Current Residence
Tokyo,Japan
Hair Color
Red
Eye Color
blue
Theme Color
Neon pink and Green
Fashion Element
Sexy
Prism Live Instrument
Trumpet
Special Skill
I can dance, sing and play trumpet
Blood Type
O
Affiliation
Dream Rose

MARs

Animal Coach
Bear
Romantic Interest
Daisuki Hondai
Relatives
Sarah Kuizumi- Younger sister

Dylan Kuizumi- Older Brother

Miyu Kuizumi- Mother

Kanata Kuizumi- Father
Personality
Edit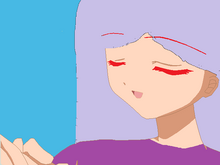 Sayaka Kuizumi is from Pretty Rhythm Fairytale Dream and she is also known to be America top beauty model because she won beauty girl fashion show contest when she was 12 years old,now at the age of 14, she has been told by her parents that needs to go Tokyo,Japan to visit her grandma and has been selected to be in the team called DREAM ROSE. Sayaka actually thinks she better then Asuka and Erina for better looks and her dressing skills, Sayaka fights when someon in her team is doing something wrong and she is being to much harsh on them. But she even-truly makes friends friends with everyone she meets in her team.
Ad blocker interference detected!
Wikia is a free-to-use site that makes money from advertising. We have a modified experience for viewers using ad blockers

Wikia is not accessible if you've made further modifications. Remove the custom ad blocker rule(s) and the page will load as expected.